Ariat is a footwear and apparel brand specializing in equestrian performance wear inspired by western fashion trends offered for men, women, and kids. They are mainly known for their footwear, which is engineered for maximum comfort and durability.
Join Ariat Family! Receive 10% Off Your First Purchase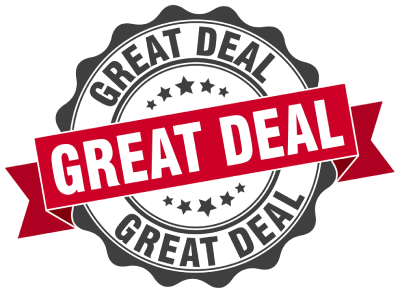 Buy One Get One 50% Off Rebar Cotton Strong T-shirts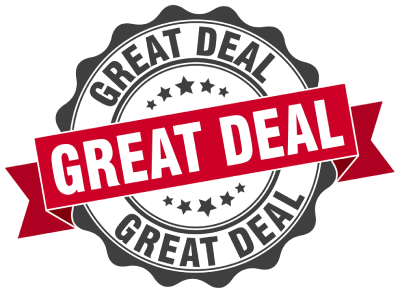 Up To 50% Off Clearance Items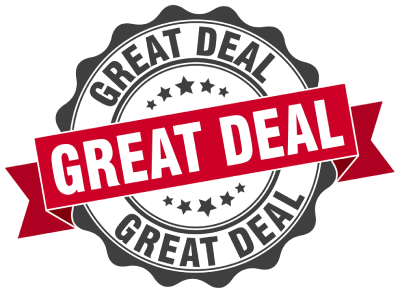 New & Best Collection Starting From $24 Only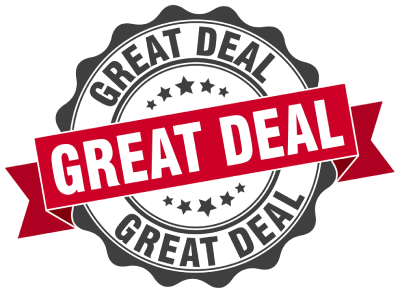 Disclosure: This post contains affiliate links. When you purchase a service or a product through the links, we might earn a commission, at no additional cost to you. Read full disclosure here.
The trendy brand has gained much attention and is also featured in notable publications such as Forbes and Independent magazine. This Ariat review has an excellent Ariat voucher code for you! Keep reading.
Overview of Ariat Boots
Since equestrian performance wear is the main selling point of Ariat, it should be no surprise that its co-founder and CEO loves horses. Beth Cross grew up working on a horse farm in Pennsylvania and spent most of her childhood surrounded by animals.
" I have a special memory of sitting in front of the TV in 1973, watching Secretariat win the Kentucky Derby. He went on to win the Triple Crown, setting records that still stand today. Secretariat's big heart and competitive spirit were the motivations behind naming our company Ariat." Says Beth Cross.
Ariat was born as "the new breed of the boot" in 1993. They became the first to incorporate athletic technology into equestrian footwear. Ariat works with global suppliers to develop cutting-edge footwear designs that ensure maximum comfort, durability, and performance. Many of their boots undergo a 150-step construction process.
Clearance Sale
Ariat Clearance Sale is live! You can shop for your favorite boots, apparel, and accessories at a low price with the Ariat discount code.
Boots Collection
From Ariat Wagga boots for hiking to riding boots, shoes for lifestyle and casual wear, the company has numerous footwear designs to choose from Ariat shoes and boots are categorized by Western, Old English, Work, Lifestyle, Casual, and Outdoor wear. You can avail amazing offers on their boots with our exclusive Ariat coupon code.
Ariat Apparel
Ariat also offers an array of performance clothing for men, women, and children. These are the following apparel collections:
English riding outfits
Denim
Jackets and vests
Tops
Pants
Shorts
Dresses
Apart from this, they also house a selection of fire-resistant shirts, sweaters, and jeans for those who contact fire hazards on the job.
Ariat Accessories
Ariat has accessories for riding, work, and everyday wear to go with their clothing and footwear. The accessories include:
Hats
Gloves
Belts
Bags, etc.
Ariat Women's Apparel
The Ariat women's collection ranges from sharp English riding vests and bootcut jeans for Western riding to elegant floral dresses and skirts. Do take a look at these popular Ariat pieces for women.
Ariat First Rodeo Vest
The Ariat First Rodeo Vest is a perfect upper for attending county fairs, rodeos, or going to the family farm during the autumn season. This rural chic vest is a warm, desert brown color, made out of cotton and rayon twill material. There is a novelty tie in the belt to cinch in your waist and a tribal print ribbon down the zipper line for an added touch and fun detail.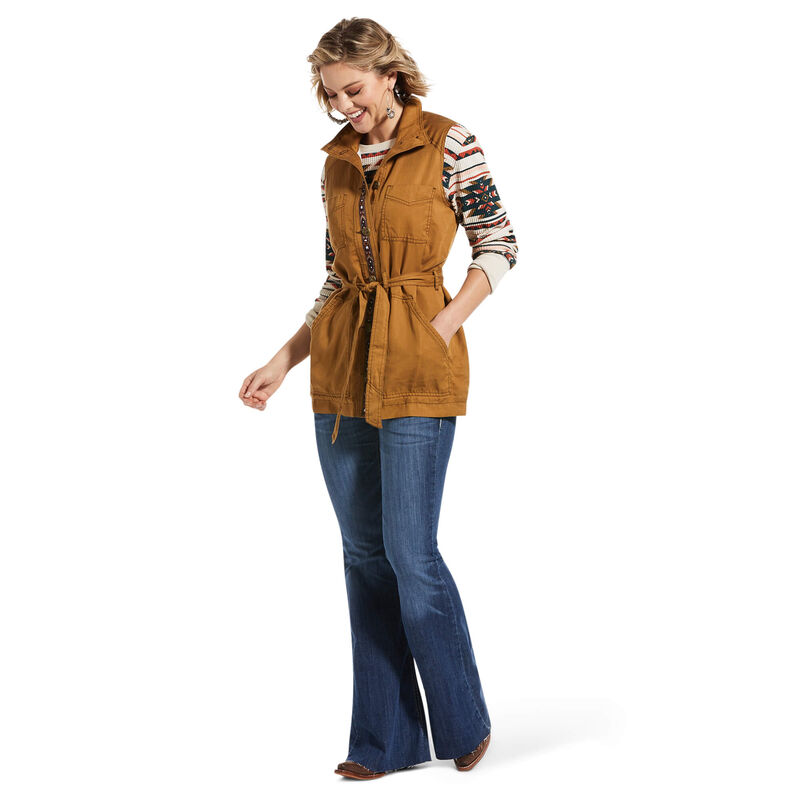 Ariat Kirby Stretch Shirt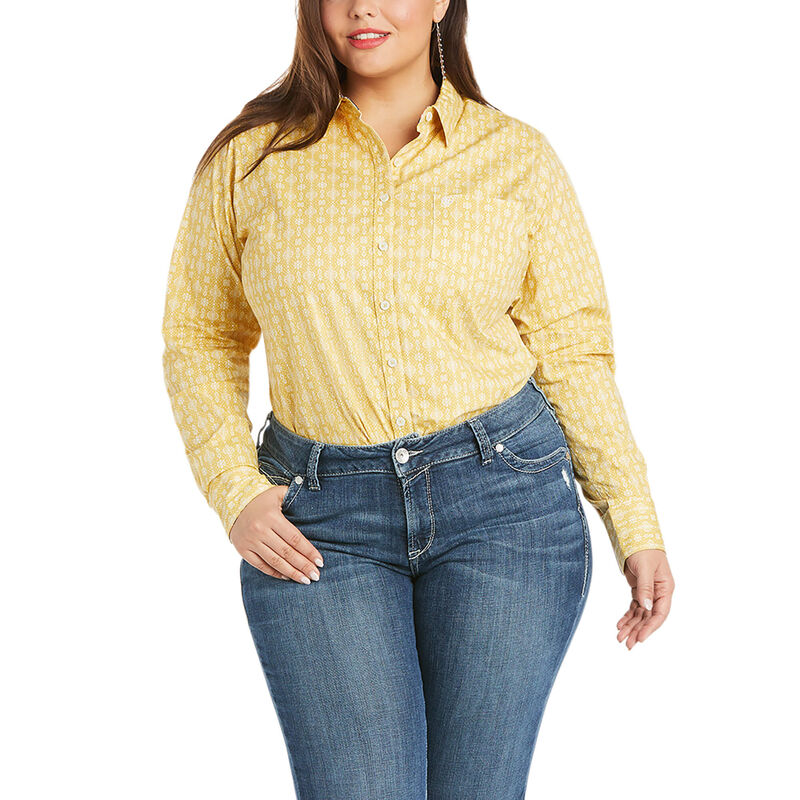 the standard collared button-down doesn't need to be stiff and shapeless, and the Ariat Kirby Stretch Shirt proves just that. This dress shirt incorporates performance features and fabrics for maximum fit and durability, and it also has a greater arm mobility seam construction for full motion.
This classic button-down is made from stretch poplin, cotton, and spandex. It's engineered for wrinkle resistance and allows for freedom of movement. The Ariat Kirby Stretch Shirt is available in 11 colors, including cream, patterned white, blue, and purple, just to name a few.
Ariat Men's Apparel
Ariat's men's collection is a complete wardrobe for guys. The apparel is designed for competitions, laidback rides, and lounging around. From comfy plaid shirts for the next barrel race to English-style polo shirts to warm jackets for cold days spent at the barn, Ariat caters to all styles for all occasions. These are the men's bestsellers:
Ariat FR Caldwell Sweater Jacket
Slide the Ariat FR Caldwell Sweater Jacket on before heading to the stables on cold days. Constructed with quality fleece and flame-resistant fibers, the jacket features Ariat's proprietary DuraLight Stretch Canvas abrasion-resistant panels at the forearms and shoulders.
Ariat TEK Polo
Look smart while feeling comfortable in the Ariat Tek Polo t-shirt, and this specialty polo is designed with advanced fabric technology to wick away moisture, fight odor, and help you to keep cool on sunny days. This performance fabric has a UPF rating of 45 that protects you from harmful UV rays. Get this polo t-shirt with Ariat coupons for a price as low as $36.95.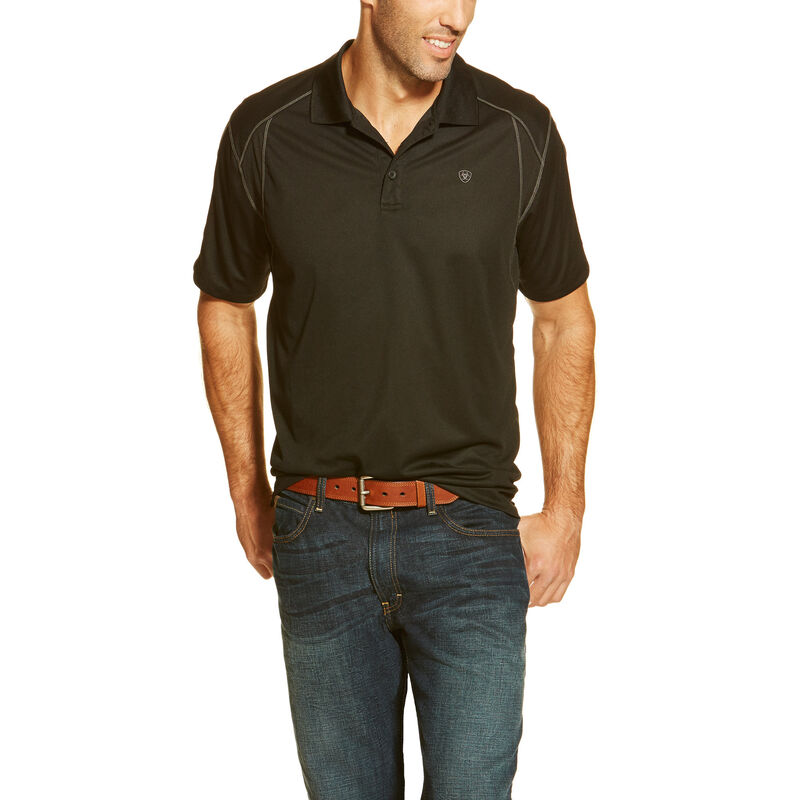 Ariat Women's Boots
If you're in the market for some high-quality riding and barn footwear, Ariat has a wide selection of women's boots in different styles and lengths. Rodeo-style cowboy boots, English riding boots in sleek leather, waterproof pairs for mucking the stalls, and more. This brand offers impressive discounts on the Ariat voucher code. Make sure to check it out. Take a look at these go-to pairs:
Ariat Fatbaby Boots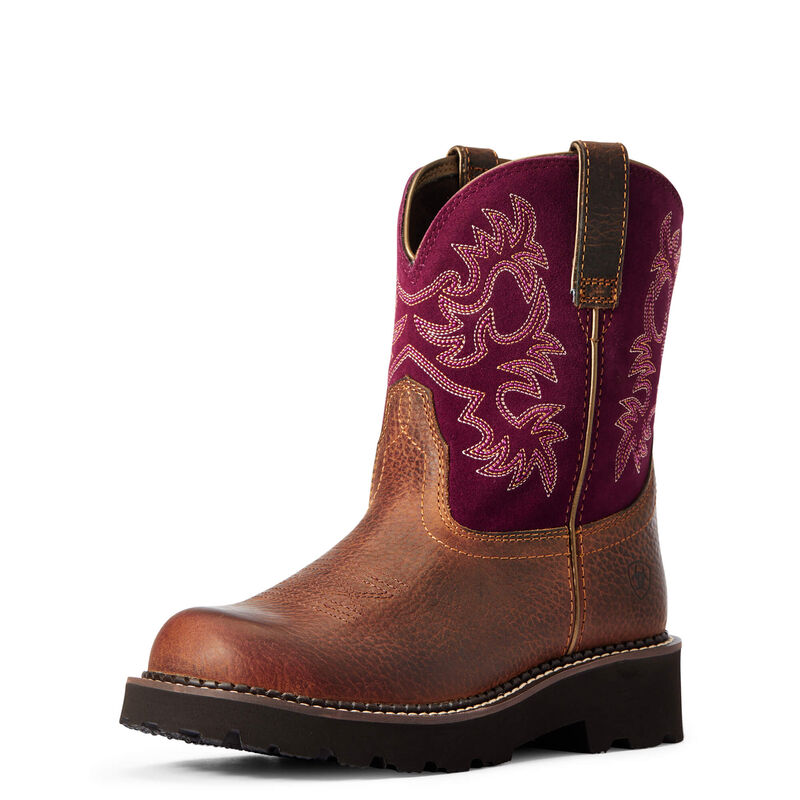 The Ariat Fatbaby Boots feature an excellent antique cowboy design. These boots come in a muted grey-brown with a distinct stitch pattern for a well-worn look. A minute paisley print stitched into the boot's front with colored thread that adds a hint of personality. Use the Ariat coupon code to order your next pair of boots at a discounted price!
Integrated with comfortable, durable, and streamlined Pro Crepe Light outsoles, your feet will be sure to thank you. This Ariat Boots review recommends pairing these boots with high-waisted jeans and a loose button-down.
Ariat Dixon Western Boots
The Ariat Dixon Western Boots are the optimal city boot to wear if you still want to incorporate a country aesthetic into your outfit. These Ariat cowboy boots are part of their New West collection, designed for durability and comfort. These ankle boots are made out of a premium full-grain leather foot and upper with a charming decorative stitch pattern.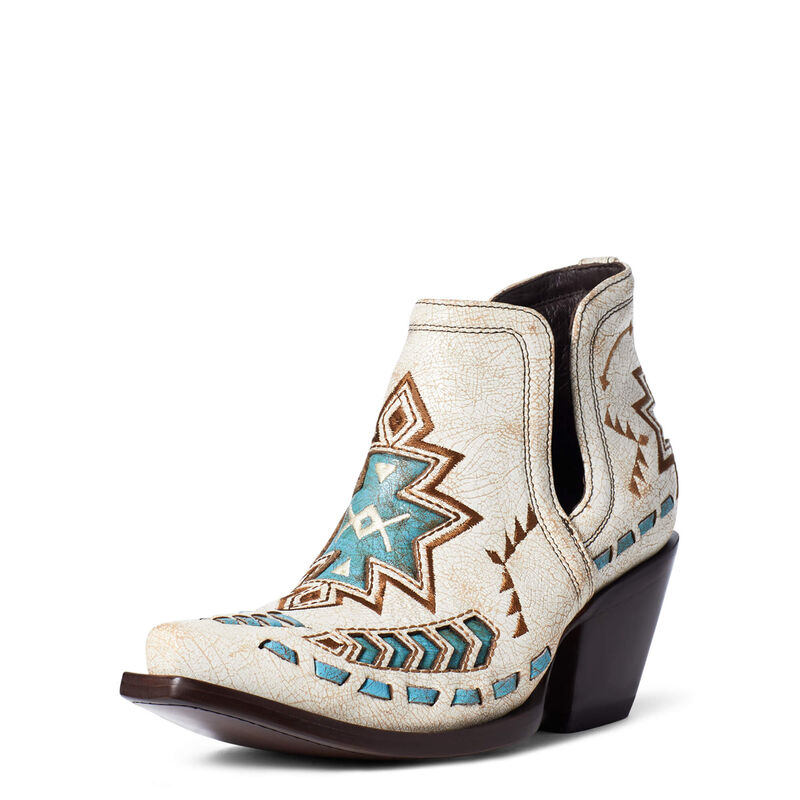 Ariat Men's Boots Review
Ariat men's boots are rugged and designed to get dirty while on the job. From suave English boots to colorful Western designs, steel toe and composite work boots, plus more. This Ariat Boots review features three of their most sought-after boot styles for guys:
Ariat WorkHog Boots
If you're looking for a pair of sturdy, attractive cowboy boots with added traction to prevent slippage, the Ariat WorkHog Boots have it all. Incorporating Ariat's ATS Max technology, these Ariat work boots offer maximum side-to-side stability to reduce fatigue and proper body alignment. A cushioned EVA midsole and an abrasion-resistant Duratread outsole combine comfort and strength in this pair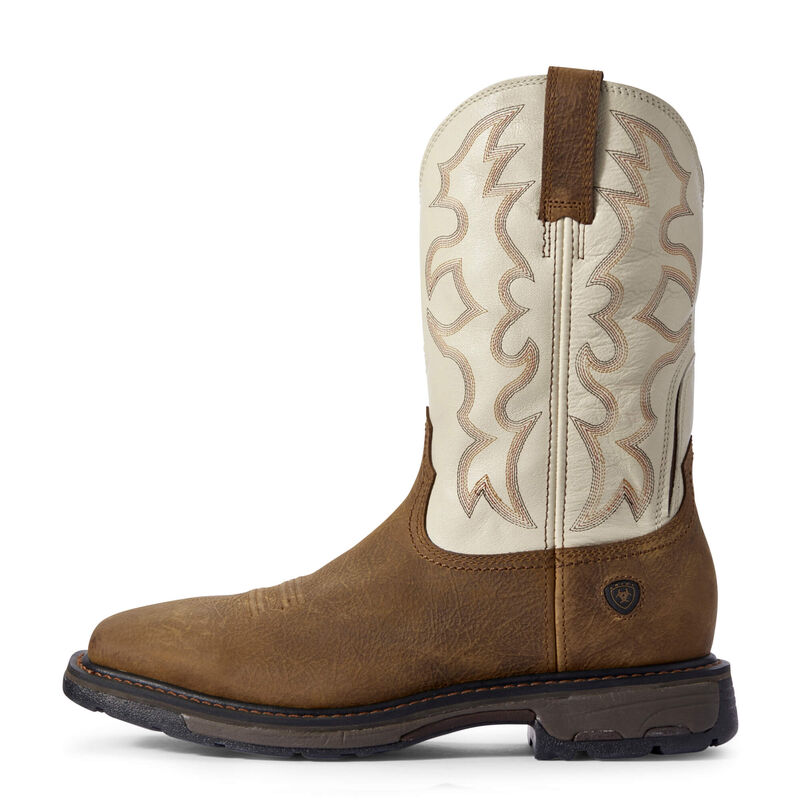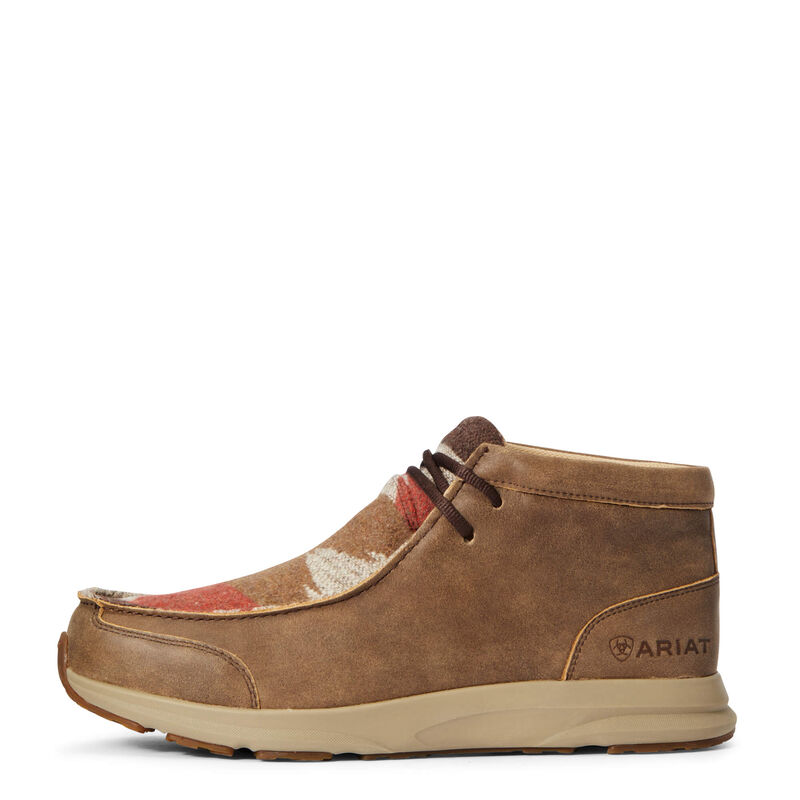 Ariat Spitfire Boots
The Ariat Spitfire Boots are the ideal slip-on work shoes for low-impact jobs. These boots are made out of soft full-grain leather with a durable outsole. The distinct boot offers support and stability, with an EVA midsole for lightweight shock absorption and cushioning. It features a rubber outsole with multidirectional tread and forefoot flex grooves to help you navigate uneven terrain.
Ariat Customer Reviews
The Overall Verdict
Ariat offers a wide selection of clothing and footwear, effectively designed to benefit riders in work, competition, and casual settings. They pioneered the incorporation of athletic technology with equestrian wear, and the company is a leader in their industry, with 20+ years of expertise to back them up. Their boots and apparel are also totally worth the hype since they provide the highest quality of premium materials, along with super-saving Ariat coupons linked above. You definitely should check out the Ariat discounts.