Have you been curious to find a brand that delivers cute beach outfits to you all year round? Or do you want someone's help to pick your outfits for your Instagram-worthy real life? Well, that's the end of the hustle, folks! Beachly is here! Read our complete review and find an awesome Beachly promo code to enjoy special offers! Let's get started!
Beachly Discount & Coupon Codes Updated
Disclosure: This post contains affiliate links. When you purchase a service or a product through the links, we might earn a commission, at no additional cost to you. Read full disclosure here.
What is Beachly?
Beachly is a quarterly subscription box filled with beach-inspired goodies. From apparel to accessories, each box houses 6-8 items valued at $250 or more! The amazing part, you may ask? Proceeds from each box are donated to Heal the Bay.
Although Beachly is dedicated to curating beach-inspired looks, their items are also perfect for people who enjoy spending time by the lake or sitting by the pool. Keep reading and grab the amazing Beachly Coupon Code in our review.
How much does Beachly Cost?
Each box of Beachly contains 6-8 items including apparel, accessories, cosmetics, etc. which are valued at $250 or more. Now that's a lot of money to spend!
Amazing Beachly offers two membership options that you can choose from – quarterly or annually – and each box will cost you $85-99, depending on which option you opt for.
As a quarterly member, you will receive one box every 3 months and will be charged $99 + shipping per box.
As an annual member, you will receive one box every 3 months and will be charged one upfront of $340 + shipping, which means that you can save up to $56 when you pre-pay through the exciting Beachly Discount Code.
There isn't a huge price difference between the two offers, but if you start with a quarterly membership and feel that you love the items, it is worth upgrading to an annual membership and save some dough!
What's inside a Beachly box?
As aforementioned, each box comes with 6-8 items of premium apparel, accessories, lifestyle products, and good vibes valued at $250.
These items include things such as tees, sweatshirts, sunglasses, flip flops, hats, towels, totes, candles, skin and hair care products, and more! They keep switching their selection to newer and different brands and you get to test out those at very low rates with Beachly promo code.
Since the boxes are quarterly, the themes are seasonal. You may expect to receive a sweater for fall bonfires at the beach and a coffee mug to get hot coffees every chilly morning.
For all the men out there! Don't worry, Beachly has got you covered too. You can subscribe to their membership for men's quarterly subscription boxes.
Goodies you receive with each box:
Women
Apparel & Accessories
Jewelry
Beach Essentials
Coastal Home Décor
Skin & Haircare Products
Healthy & Active Living
Good Vibes
Men
Tees
Boardshorts
Shorts & Pants
Sandals
Button downs
Hoodies & fleece
Hats
Good Vibes
Shipping Costs
Shipping is only USD 4.95 for customers in the United States. You can find out more about shipping fares on their website.
Attention!
The winter-themed boxes have sold out at Beachly. You can order your Beachly spring box today! Shipping starts in late February.
Also, you will get a FREE Bonus Box worth $100 with your Beachly Spring Box!
Looking for amazing jeans that's worth the penny? Check our Good American Review.
Take a look at Winter 2020's box items
Winter 2020 Women Subscription box:
Magnolia Luxe Robe - $125 retail value
Tropics Travel Bag - $36 retail value
Beach Club Oversized Pullover - $75 retail value
Sea Salt Surf Candle - $15 retail value
Magnolia Luxe Sleep Mask - $30 retail value
Kukui Body Lotion - $25 retail value
Beachly Gift
Want to gift someone the perfect beach-inspired present ever? Get them a beachly box. Send the aloha vibes to a friend or loved one at ease this holiday season.
Each gift box contains over $200 retail value of beach-inspired apparel and accessories at 50% off. It is as easy as ABC.
Select whether you want to send a Women's Box or Men's Box
Choose between 1, 2, or 4 boxes. These are delivered seasonally, with different items in each box.
Pick the size and proceed to checkout
That's it!
Beachly Shop
Fell in love with a product and want to shop again? Simple. Head over to Beachly's Shop and find an awesome range of beach-inspired products.
They offer a planner notebook, scented diffuser, moisturize and exfoliate set, and many more accessories and décor items. Make your life sunny and beachy with the Beachly Promo code and membership perks!
Membership Perks
Member Market: When you become a Beachly member, you will get access to the Member Market, a shop filled with premium brands and products at incredible deals exclusively for the Beachly Tribe.
Giving Back: Not only are you receiving cool stuff with each Beachly box, but you're helping to give back to the earth as well. Every box purchased helps to fund beach clean-ups in Southern California with the non-profit organization, Heal the Bay.
Good Bits of Beachly Subscription
The products are high quality. The materials and fabrics used are well made and sturdy.
The boxes include wearable everyday essential items.
The pricing and policies are clear and super straightforward. Beachly is upfront with how their memberships work and their "cancel anytime" policy is comforting for those just wanting to give it a try.
The not-so-good bits of Beachly Subscription
The membership costs are a bit pricey. In comparison to other quarterly lifestyle boxes, Beachly is one of the higher-end subscriptions, in terms of cost. But the quality of the items + the charitable aspect makes up for it.
No option for customization or personalization. Each season, Beachly curates a collection of 6-8 items to send out in boxes, but these items are sent to all members. The only differences will be the women's box vs men's box and the sizes for clothing.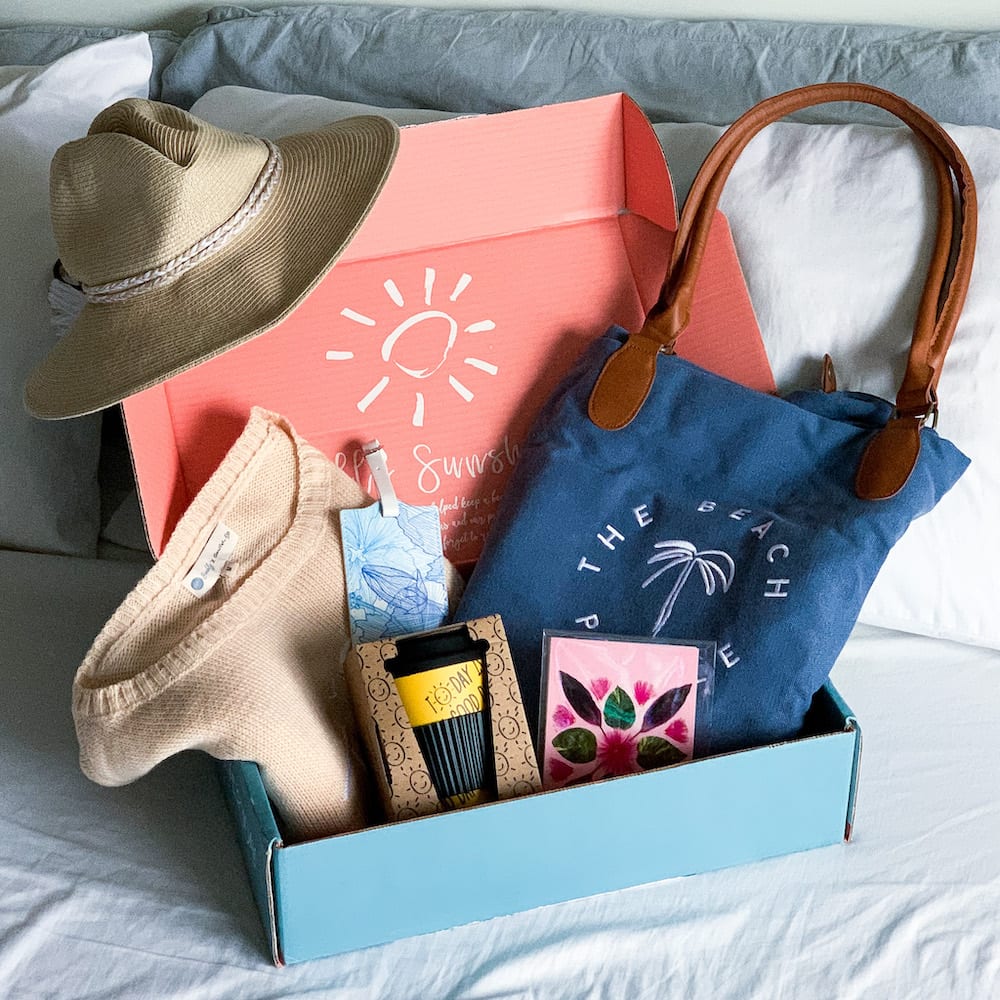 The Overall Verdict
We all want to look super voguish and sassy when we hit the beach. But finding the perfect items that complement your style and moreover, finding good stuff at a price that doesn't break your bank – a difficult task indeed.
Beachly saves your days by their amazing selection of seasonal products, delivered to your doorstep, quarterly. One Word. PERFECT. Period.
Now, head over to their website and get your registered right this very second and grab your chance to win a surprise box with Beachly Spring Box!