Are you super pumped up for your spring holidays at the beach or by the lake? Are you shopping for cute summery outfits that are just totally beach vibes? Well, Beachly has got you covered not only for spring, but for all year-round beachy vibes.
Exclusive | $10 Off Order of Your First Box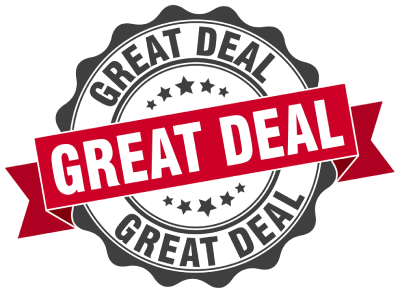 $20 Off Spring Box Signup + Accessories For $79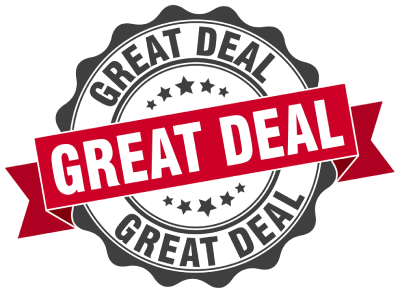 Free Coola Mineral Sun Silk Creme on Your Order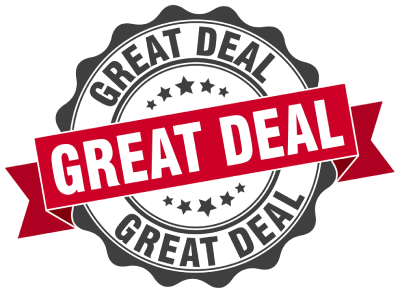 Up To $100 Of Clean Beauty for Less Than $1 a Day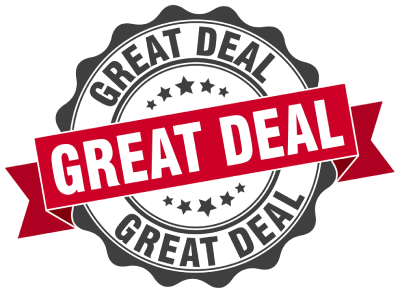 About Beachly
Beachly delivers subscription boxes at your doorstep so that you can look voguish and trendy for ultimate sunny weather all year round. Beachly is a quarterly subscription box that is filled with 6-8 beach-inspired goodies that are originally valued at $250 or more! The amazing part about Beachly? You get the box only for $99. AND, if you annually subscribe to Beachly, you receive the box only for $85.
Read Complete Review: Beachly Review – Beach Vibes All Year Round & Beachly Summer Box Spoiler 2022
Disclosure: This post contains affiliate links. When you purchase a service or a product through the links, we might earn a commission, at no additional cost to you. Read full disclosure here.
Attention!
The winter-themed boxes have sold out at Beachly. You can order your spring box today! Shipping starts in late February.
Beachly Spring Box 2022
Ready to ease your way into breezy days this Spring with Beachly?
This season's box is truly good as gold - it's filled with $250+ worth of effortlessly beachy goodies sure to elevate your laidback lifestyle. Get an extra dose of sunshine from brands inspired by everything from the coastlines of Australia to casual weekends spent in the Hamptons, lush jungles in Bali, and everywhere in-between. It's the bright and breezy way to ease into Spring.
Also, you will get a FREE Bonus Box worth $100 with your Spring Box! There are limited boxes available. Hurry up! Order your box now!
What does a Beachly Box contain?
Each box comes with 6-8 items of premium apparel, accessories, lifestyle products, and good vibes valued at $250.
These items include things such as tees, sweatshirts, sunglasses, flip flops, hats, towels, totes, candles, skin and hair care products, and more! They keep switching their selection to newer and different brands and you get to test out those.
Since the boxes are quarterly, the themes are seasonal. You may expect to receive a sweater for fall bonfires at the beach and a coffee mug to get hot coffees every chilly morning. Or you might get a beautiful floral poncho and shorts for men with your spring box.
Goodies you receive with each box:
Beachly Spring Box Spoilers 2022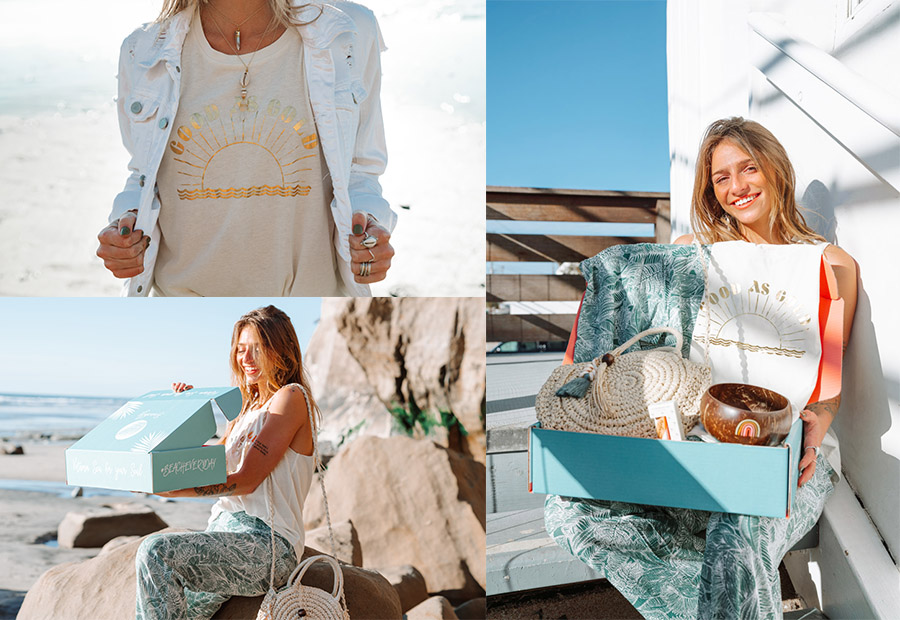 Attachment: Spring Brand Logos + Spring Product Images + Spring Lifestyle Images
Taglines
The Spring box has arrived, and this box is as good as gold!
It's filled with $250+ worth of beachy goods to bring you brighter, breezier days.
Brighter days are here!
The Beachly Spring box is that extra dose of sunshine you've been waiting for.
Elevate your laidback lifestyle with Beachly.
We'll deliver you a box filled with $250+ of beachy chic goods every season.
---
1) Spring Box 2022 Product Details
By: O'Neill
Breezy Beach Pant
Retail Price: $59.50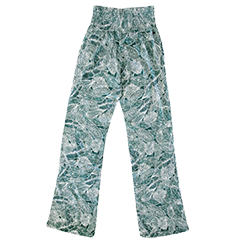 Like a tropical escape made of sun-kissed days and care-free nights, the Breezy Beach Pant offers elevated styling of a laidback staple. A popular request from the Beachly Tribe, these comfy & stylish pants feature a straight leg and all-over floral print. Perfect for slightly warmer Spring days!
About the Brand - The O'Neill babe is feminine, carefree & classic. Saltwater soothes her soul and awakens the carefree spirit of the beach. Always designed with comfort in mind, you can expect the perfect mix of laid-back styles that every beach lover craves.
2) Good As Gold Tank
By: Saltwater Luxe
Retail Price: $55
(Beachly Exclusive)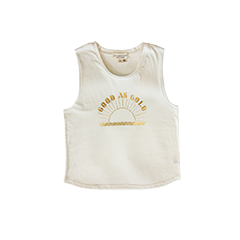 Nothing says spring like a little bit of bling! Brighter days are ahead with the beginning of warmer weather and the laid-back style of this cotton tank is made to pair perfectly with your O'Neill Breezy Beach Pants!
About the Brand - Locally crafted in the heart of Los Angeles, designers Christa and Kristy bring versatile style and luxurious comfort to the everyday. One-of-a-kind textures, limited edition fabrics, and hand-sewn feminine embellishments are the signatures that bring individual character to every piece. From brunch to beach to nights out on the town, Saltwater Luxe carries you effortlessly from one sun-kissed adventure to the next.
3) Boho Beach Crossbody Bag
By: Solid & Striped
Retail Price: $95
(Beachly Exclusive)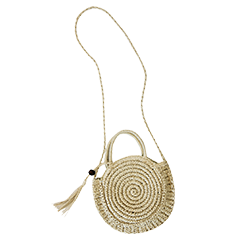 Effortlessly chic with a surprise pop of color, this beach-to-street essential is like a Spring dream. It's an upgraded take on this season's latest round bag, featuring wipeable, sand-repellent lining and dual carry options, with handles and a long crossbody or shoulder strap. For this Beachly Exclusive we worked closely alongside the team at Solid & Striped to choose our favorite swim print from their latest line for the interior and a lightweight woven straw design on the exterior.
About the Brand - Dreamed up in the Hamptons beach town of Water Mill, New York, Solid & Striped swimwear combines classic beach-ready silhouettes with a preppy-chic aesthetic. From breezy cover-ups to one-pieces and bikinis, Solid & Striped bathing suits and après-swim beachwear are made from the world's finest materials and adored by celebrities and tastemakers worldwide.
4) Moonstone Cowry Shell Keychain
By: Lotus and Luna
Retail Price: $13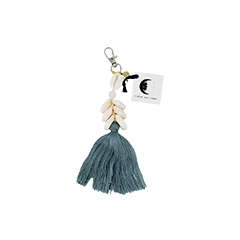 This handmade keychain is decorated with cowry shells, an iridescent Moonstone, and a tassel. Did you know? Moonstone is known to stabilize emotions, decrease stress, and enhance intuition.
About the Brand - Each product is handcrafted by a talented group of female artisans living in villages in Northern Thailand. Lotus and Luna have a mission of providing fair and consistent employment to each artisan who handcrafts their accessories.
Style Tip- Enhance your handbag or keyring with this beautiful eye-catching accessory! Clip it right on your new Boho Beach Crossbody Bag for an extra touch of beachy flair!
5) The Jumbo Aloha Coconut Bowl
By: Earthy Andy x Coconut Bowls
Retail Price: $18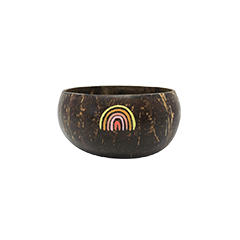 These Jumbo Coconut Bowls are handcrafted from coconut shells that would have been discarded as waste otherwise. They are sanded until smooth and polished with coconut oil to bring out their natural beauty. This bowl, in collaboration with Earthy Andy (@earthyandy), also features a beautiful, hand-painted Aloha Rainbow.
Earthy Andy seeks to inspire people to be more health-conscious and provides guidance to adopt a lifestyle rich in health and fitness.
About the Brand - In late 2015, the founder of Coconut Bowls stood on a near-empty beach in Bali watching a local man carve and polish souvenirs out of discarded coconut shells. Jake was inspired by the coconut shells, naturally shaped like a bowl, no plastic needed. Motivated by the opportunity to reduce single-use plastics, source sustainable coconut shells, and provide jobs for local artisans and farmers - Coconut Bowls was born.
Earthy Andy Collaboration - In Hawaiian, Aloha means 'the breath of life. It is used as a greeting in the Islands and a reminder to live your life guided by love. Inspired by Earthy Andy's favorite Coconut Bowls goodies, this bowl will bring the love and light of island life into your home. We invite you to travel over the rainbow and into the tropics with Earthy Andy's Aloha Bowl. Check out Earthy Andy's new book, Plant Over Processed, for a list of fun, healthy and delicious recipes to compliment your new bowl!
Care Instructions:
Do not expose your Coconut Bowl to extreme heat.
Hand wash your Coconut Bowl and do not soak for long periods of time.
Use for room temperature and cold foods.
Do not use your Coconut Bowl in the refrigerator, microwave, oven, or dishwasher.
6) Coconutter 101 Ointment Multi Balm
By: Lano
Retail Price: $13.50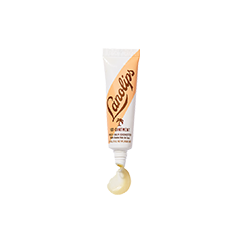 Using ultra-pure grade Aussie lanolin, this cult-classic 101 ointment offers a safer, more effective, and 100% natural alternative to common petroleum-based balms. This super-rich balm penetrates and seals in moisture to give extreme hydration for dry and chapped lips, skin patches, cuticles, elbows, and more. No petrolatum. No parabens. No artificial fragrance. No mineral oil. No sulfates. No PEG's. No animal cruelty. NO MORE DRY SKIN!
About the Brand - All Lano products are made with the lanolin – a deeply moisturizing oil naturally occurring in sheep's wool. Humanely sourced from Australian sheep farmers. Lanolin mimics the skin's own oils to heal and hydrate. It is so safe that doctors recommend it to treat burns, and mothers can use it with nursing infants.
Apparel & Accessories
Jewelry
Beach Essentials
Coastal Home Décor
Skin & Haircare Products
Healthy & Active Living
Good Vibes
Tees
Boardshorts
Shorts & Pants
Sandals
Button downs
Hoodies & fleece
Hats
Good Vibes
A Glance at the Past
Take a look at Winter 2020's box items
Magnolia Luxe Robe - $125 retail value
Tropics Travel Bag - $36 retail value
Beach Club Oversized Pullover - $75 retail value
Sea Salt Surf Candle - $15 retail value
Magnolia Luxe Sleep Mask - $30 retail value
Kukui Body Lotion - $25 retail value
Beachly Gift
Want to gift someone the perfect beach-inspired present for their spring holidays? Get them a Beachly Box. This present will save you the hustle of going to the market and finding the latest in-trend products and outfits. Send the aloha vibes to a friend or loved one at ease this holiday season.
Each gift box contains over $200 retail value of beach-inspired apparel and accessories at 50% off. It is as easy as ABC.
•Select whether you want to send a Women's Box or Men's Box
•Choose between 1, 2, or 4 boxes. These are delivered seasonally, with different items in each box.
•Pick the size and proceed to checkout
That's it!
Beachly Shop
Fell in love with a product and want to shop again? Simple. Head over to Beachly's Shop and find an awesome range of beach-inspired products.
They offer a planner notebook, scented diffuser, moisturize and exfoliate set, and many more accessories and décor items. Make your life sunny and beachy with Beachly!!
Membership Perks
Member Market: When you become a Beachly member, you will get access to the Member Market, a shop filled with premium brands and products at incredible deals exclusively for the Beachly Tribe.
Giving Back: Not only are you receiving cool stuff with each Beachly box, but you're helping to give back to the earth as well. Every box purchased helps to fund beach clean-ups in Southern California with the non-profit organization, Heal the Bay.
Good Bits of Beachly Subscription
The products are of high quality. The materials and fabrics used are well made and sturdy.
The boxes include wearable everyday essential items.
The pricing and policies are clear and super straightforward. Beachly is upfront with how their memberships work and their "cancel anytime" policy is comforting for those just wanting to give it a try.
The not-so-good bits of Beachly Subscription
The membership costs are a bit pricey. In comparison to other quarterly lifestyle boxes, Beachly is one of the higher-end subscriptions, in terms of cost. But the quality of the items + the charitable aspect makes up for it.
No option for customization or personalization. Each season, Beachly curates a collection of 6-8 items to send out in boxes, but these items are sent to all members. The only differences will be the women's box vs men's box and the sizes for clothing.
The Overall Verdict
We all want to look super voguish and sassy when we hit the beach. But finding the perfect items that complement your style and moreover, finding good stuff at a price that doesn't break your bank – a difficult task indeed.
Beachly saves your days by their amazing selection of seasonal products, delivered to your doorstep, quarterly. One Word. PERFECT. Period.
Now, head over to their website and get yourself and your loved ones registered right this very second!