Honeylove manufactures women's shapewear. Their soft underwear, camis, and bras are meant to inspire women to embrace their femininity with confidence. Honeylove specializes in what they call "sculptwear," which includes briefs, thongs, capris, and shorts that not only shape but also sculpt!
Our Honeylove reviews will provide you an overview of the brand and its collections. We'll look at bestsellers, buyer reviews, and other factors to help you determine if their sculptwear is appropriate for you.
All About Honeylove Reviews
World-touring Betsie Larkin, an EDM singer-songwriter, tried a variety of shapewear but couldn't find anything that fit her: "I originally attempted shapewear to gain more support in my stage costumes, but it rolled down, pinched in the wrong areas, and didn't offer the shaping that I wanted."
Larkin set out to design her shapewear after spending too much time on stage in shapewear that didn't make her feel secure. Honeylove was formed in 2016, and the firm has since produced over 200 prototypes to achieve the ultimate item.
While their sculptwear gives women confidence in their bodies, the business also supports women in other ways. Honeylove collaborated with Dress for Success and contributed $170,000 in product value to give professional confidence-boosting clothing to women in need.
Let's get to the core of this Honeylove shapewear reviews now. The firm provides a variety of solutions. There's a shapewear garment for almost every requirement, including shorts, shirts, bras, and briefs. Let's dive into their most popular items.
Honeylove Reviews – Sculptwear
Let's start with what Honeylove is renowned for Sculptwear! Each component was specifically engineered to compress, shape, and elevate particular regions while remaining in place.
Every design is tested to guarantee quality. They are available in several styles, such as capris, briefs, shorts, and thongs. Whatever your attire, the brand tries to provide a comfortable option that will work for you.
Honeylove Legging 2.0 Review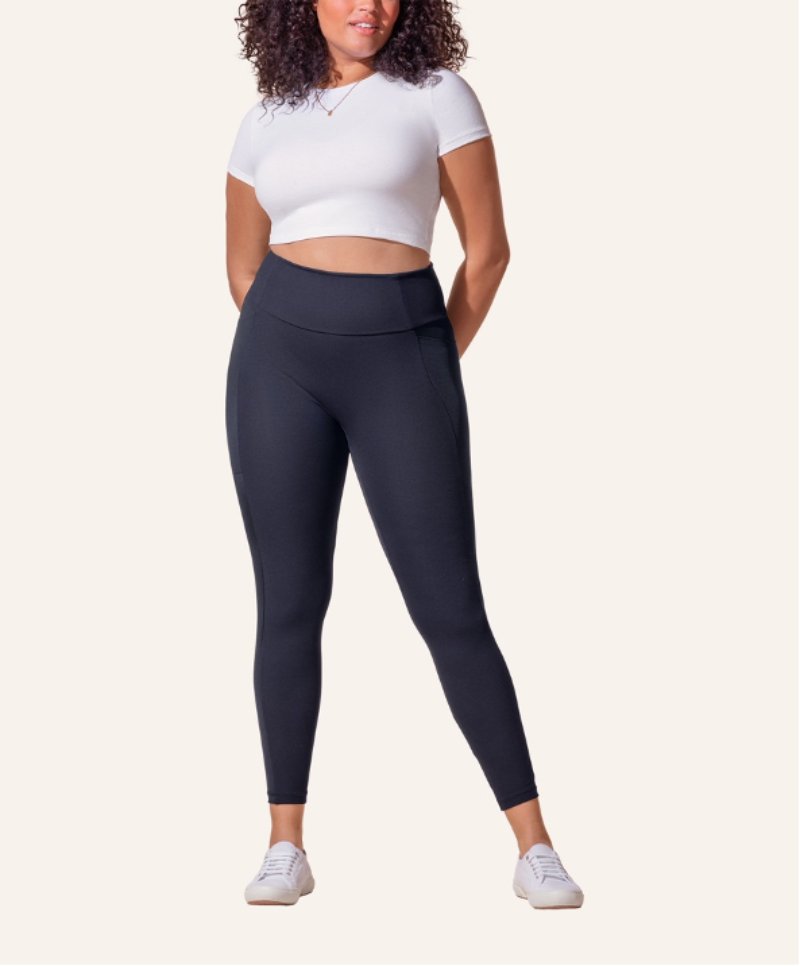 Jet Black Legging 2.0 - Price: $119 At Honeylove
The Legging 2.0 has an absorbent internal gusset and sheer-proof fabric, allowing you to wear it without underwear. Contoured shaping panels mould your thighs, belly, and butt so you look and feel your best. The smoothing and concealing properties of the soft, compressive fabric are enhanced.
Honeylove Queen Brief Review
You'll feel like the queen bee in Queen Brief with the Honeylove. These corset-style sculptwear briefs provide compression while also giving the wearer a Marilyn Monroe appearance.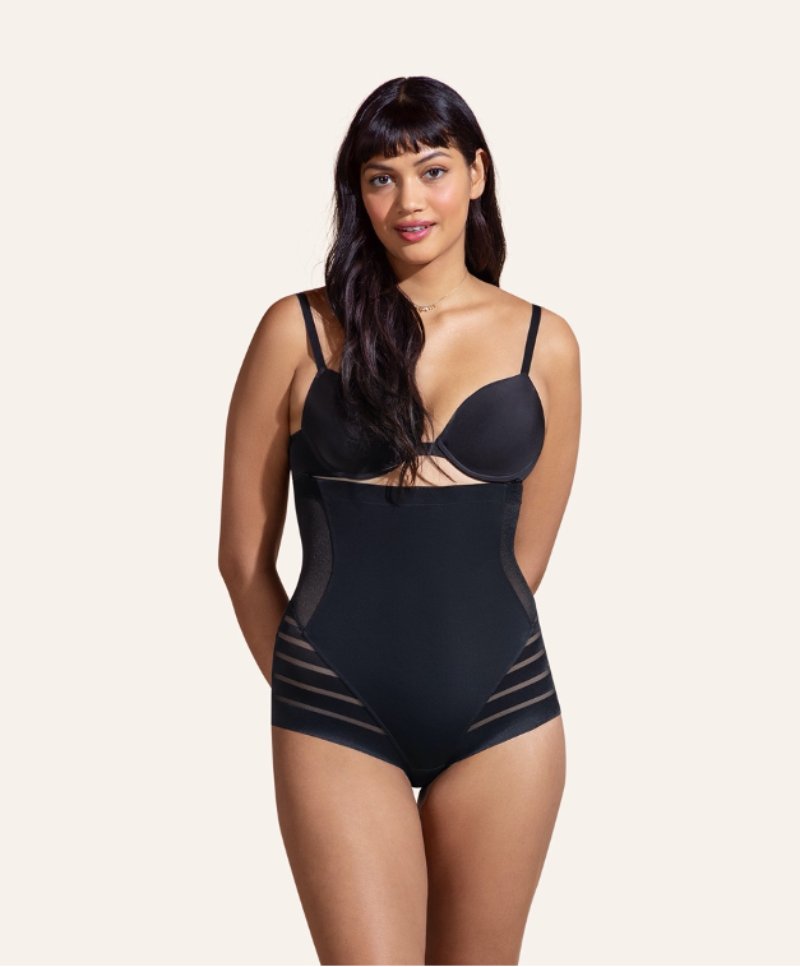 Top Comfort Queen Brief - Price: $84 At Honeylove
Its hourglass design smoothes your stomach while proudly displaying your curves. Your booty will be raised and molded to perfection with the addition of boost bands.
The sweat-wicking material keeps you dry and comfortable throughout the day, while the SoftFlex structure keeps everything in place. These structures are similar to the bones found in corsets. However, they are more comfortable and softer.
With these, you won't have to worry about panty lines because Honeylove has your back (and your front, too). This pair costs $84 with our exclusive discount code for Honeylove. These briefs are available in white, tan, or black.
You might be interested in Yours Clothing Review, Good American Review, and much more on Trending Reviews.
Disclosure: This post contains affiliate links. When you purchase a service or a product through the links, we might earn a commission, at no additional cost to you. Read full disclosure here.
Honeylove SuperPower Short Review
It's called a SuperPower Short for a reason. These provide the same support as briefs, but they also support your thighs!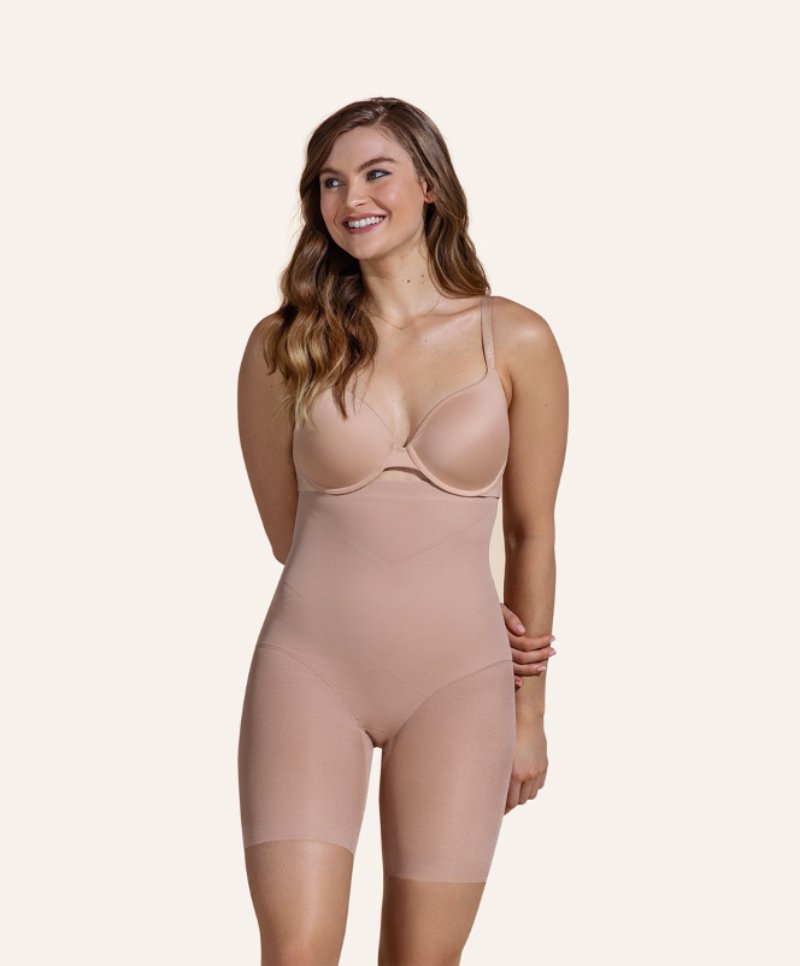 The Original SuperPower Short - Price: $89 At Honeylove
Its one-of-a-kind paneling targets your stomach with strong compression while not compressing anyplace you don't want it to. The booty bands elevate your rear, enhancing those curves.
Don't be concerned about any odd bulges. This item was created with extra room around the waistline and thighs to produce a seamless look under your garments.
We know you're thinking, "What if I need to use the restroom?" Fortunately, they are bathroom-friendly. They have a slit in the cloth to make visits to the ladies' room considerably more convenient.
The SuperPower Short is priced at $89, but as always, you'll get an extra discount with our Honeylove reviews! There are also four color variations to select from!
Honeylove SuperPower Thong Review
The Honeylove SuperPower Thong combines compression technology with style and comfort, but with the bonus of being suitable with shorts or short dresses. If you wish to wear some sheer shorts or leggings, their actual superpower is that they don't leave any unsightly panty lines.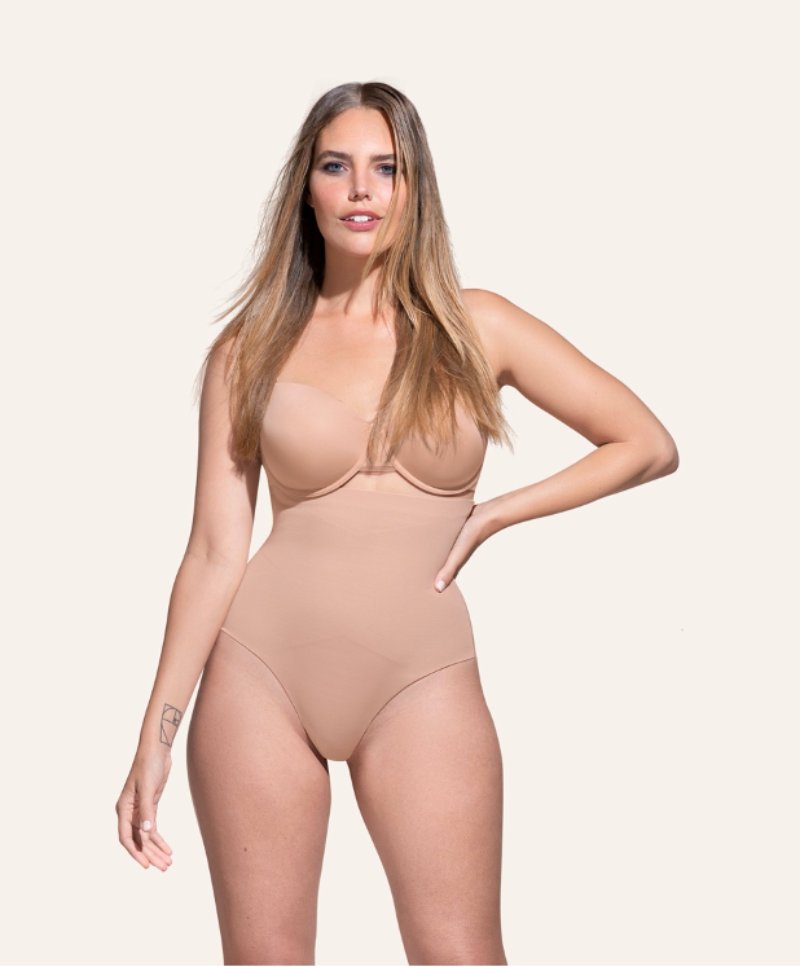 SuperPower Thong - Price: $79 At Honeylove
If you are in-between sizes or want an exceptionally snug fit, Honeylove shapewear reviews recommend ordering one size smaller than usual. For those of you tall ladies out there, this sculptwear thong comes with interchangeable straps to assist the item in reaching your bra line for a seamless fit.
These shaping knickers are $79 with the Honeylove and comes in two colors.
Honeylove Reviews – Tanks & Bras
Your thighs and buttocks should not receive all of the focus. Honeylove provides a selection of tanks, camis, and bras that will give your breasts and belly some extra support and compression. This Honeylove shapewear review will now take a look at their best-selling items.
Liftwear Tank Review
Because it provides support and comfort, this LiftWear Tank is one of Honeylove's best-selling items.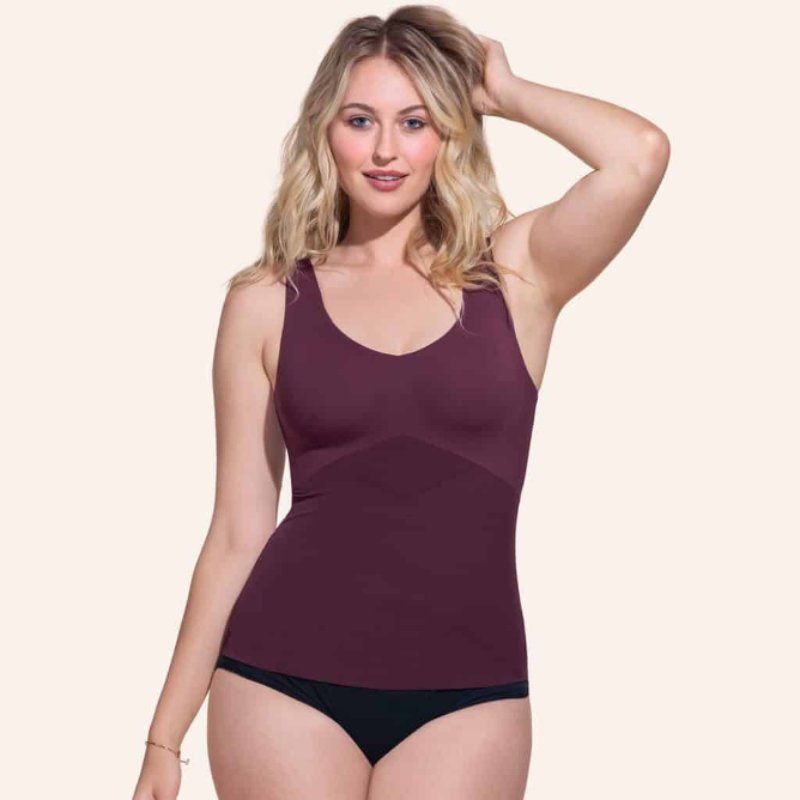 Lifting & Smoothing - Lifetwear Tank - Price: $84 At Honeylove
So, what is it about this shapewear tank that makes it so comfortable? It's wire-free and features straps that won't dig in. It supports and raises your chest without causing any discomfort. In contrast to other super-tight shapewear that can only be worn for a few hours at a time, the manufacturer claims that this garment is comfortable enough to wear every day.
You'll want to show off this $84 Honeylove tank bra, which comes in seven color options ranging from basic nudes to bright colors. It's adorable and supportive enough that you can wear it with your favorite jeans and call it a day. With the Honeylove, grab this amazing piece!
Honeylove Liftwear Cami
The Liftwear Cami smoothes your stomach and raises your breasts without the use of any unsightly wires! This shirt will feel snug around the waist, but it was intended to stay comfortable and in place all day.
Its delicate and adjustable straps let it blend in with most outfits. This cami, on the other hand, is lovely enough to wear on its own.
You'll have a hard time picking just one of the six gorgeous color selections. This Honeylove braless tank top costs $84. Honeylove reviews advise sizing up for taller ladies who want more length.
Honeylove – Is it worth it?
After hours of studying the brand, we've arrived at the point where you're undoubtedly wondering: is Honeylove, a legitimate company? Yes, based on what we've learned about their shapewear and sculptwear!
This firm is run entirely by women for women. Honeylove has gone through several iterations to create the ultimate version that would allow ladies to feel secure in their skin. Furthermore, they ensure that looking good does not imply feeling bad. At every level of their design process, comfort and attractiveness collide.
We appreciate how unique the Honey models are. The brand is dedicated to representing all women, and this is evident in their size range. They also made Honeylove sizing simple with an in-depth Honeylove size guide.
Even though the prices are greater than those of other comparable brands, many reviewers agree that they are "worth every cent." This Honeylove shapewear review believes this brand is worth purchasing for shapewear that includes high-quality materials, a broad size range, unique designs, and a comfortable fit.