This page may contain affiliate links. If you purchase through these links, we may receive a commission. This doesn't affect the opinions or assessments of our editors.
The Beachly Winter Box spoilers are out! Read our detailed review to get a glance at the super-cool goodies packed in Beachly Winter Box 2022 and active discount codes by Beachly!
Assuming you are on this page, we have one thing in common! That's our LOVE FOR THE BEACH! Whether it's summer or winter, we just can't stay away from the beach! True? I knew it!
About Beachly
Does beach style always entice you? Well, Beachly subscription boxes are just the right treat for you!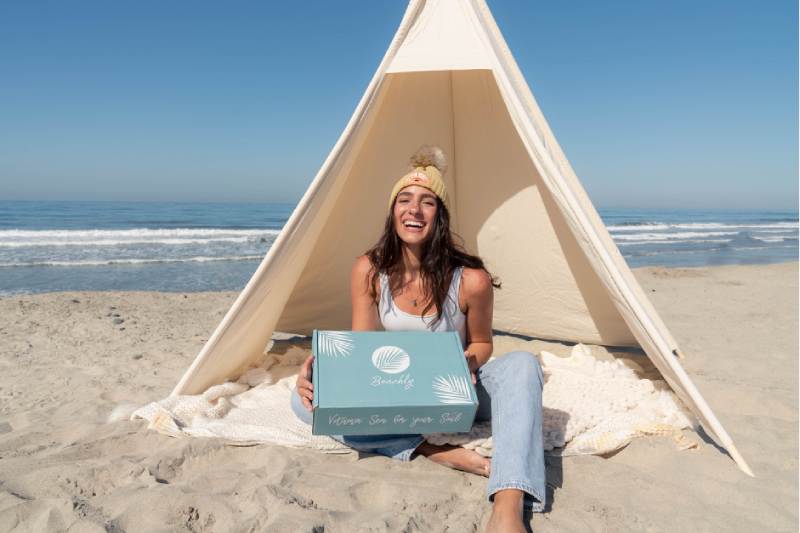 Beachly is a beach fashion subscription box that contains 6-8 pieces of luxury beach themed apparel, lifestyle products, and accessories valued at $200+ each quarter for $99 per quarter. Beachly creates beach boxes for both women and men, handpicking products based on your style preferences and climate, ensuring that each box is beautifully curated to fit your unique style and is seasonally appropriate.
Unlock 20% off your Beachly Box by signing up on their website!
Keep reading for complete Beachly Winter 2022 spoilers!
Why Should You Purchase Beachly Winter Box 2022?
• A box of beach-inspired clothing and accessories delivered four times per year with a $250+ retail value in each box for a fraction of the Price.
• Each box contains a $250+ retail value.
• 6-8 premium beach-inspired apparel, accessories, and lifestyle items
• Minimum of 50% off retail
• The proceeds from each box purchased go towards beach cleanups organized by Sea Trees.
• Each season, only a limited number of units are available.
• Choose between quarterly and annual payments.
• Cancel at any time
• Membership includes access to our members market, where you can save even more money.
You may also like Veronica Beard Review, FWRD Review, Lulus Review, Jimmy Choo Review, Dudley Stephens Review, and much more on Trending Reviews.
Disclosure: This post contains affiliate links. When you purchase a service or a product through the links, we might earn a commission, at no additional cost to you. Read full disclosure here.
Beachly Subscription Boxes
Beachly Beauty Box
Beachly Beauty will revitalize your summer-kissed skin this winter!
This box contains over $115 in beauty essentials to help you transition into Fall. The luxe products inside are imbued with nutrient-dense, island-inspired substances, and the delicate aromas will infuse your days with the sunshine of aloha as the weather cools.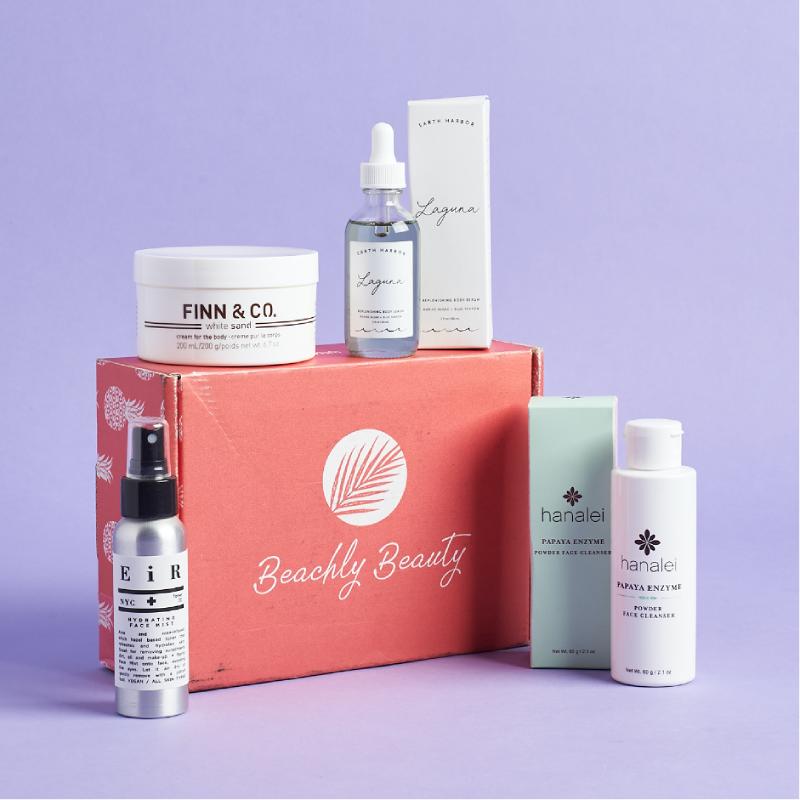 What's Inside the Beachly Beauty Box?
• Fragrances
• Nail Polish
• Cleansers
• Moisturizers
• Lip Balms
• Hair Masks
HANALEI PAPAYA GENTLE EXFOLIATING CLEANSER

This gentle cleanser with all-natural papaya enzymes will brighten and exfoliate your skin, leaving it with a radiant, anti-ageing glow. It's infused with Vitamins A and C, Hawaiian Noni, fatty acids, and antioxidants from the islands.
EARTH HARBOR REPLENISHING BODY SERUM



This body serum is a bottle of glistening maritime bliss, with a blend of nutrient-dense botanical oils - marine algae, rosehip, coconut, and geranium blossoms. Enjoy deep hydration, nourishment, and a healthy glow from within.
EIR NYC HYDRATING FACE MIST



A five-ingredient face mist contains aloe vera, rose, and witch-hazel. This hydrating toner is a revitalizing super-nutritional treatment for a dewy fresh skin. With just a few spritzes of this mist, your skin will feel rejuvenated and balanced, making this an ideal addition to your daily beauty routine.
The Beachly Beauty Box 2022 subscriptions are only available for $29 per box, with goodies worth $100 retail value.
What's Inside a Beachly Box?
As previously stated, each box contains 6-8 items worth $250 in the premium apparel, accessories, lifestyle products, and good vibes.
Tees, sweatshirts, sunglasses, flip flops, hats, towels, totes, candles, skin and hair care products, and more are among the items available. They are constantly changing their selection to include newer and different brands, which you will have the opportunity to try.
Because the boxes are delivered quarterly, the themes are seasonal. You can expect to receive a sweater for fall beach bonfires and a coffee mug for hot coffees on chilly mornings.
For all of you men out there! Don't worry, Beachly has you covered as well. You can sign up for their membership to receive men's quarterly subscription boxes.
Beachly Winter Box 2022 – Women's
Beachly Women's Winter Box is the largest yet, packed with over $300 in retail value to bring the beachy vibes to your doorstep at a discounted price.
The ultimate Winter getaway inspired this season's box. Cosy up with a sweater, beanie, and slippers, as well as a unique way to bring some coastal flair indoors. We've teamed up with Craig Conover to get a little Southern charm to the season! Exclusive Sewing Down South Pierside Pillow will be delivered in one of two custom prints in the Winter Box. Whether you're spending the season snowed in or at the beach, these new finds are sure to brighten your day.
What's inside Beachly Winter Box?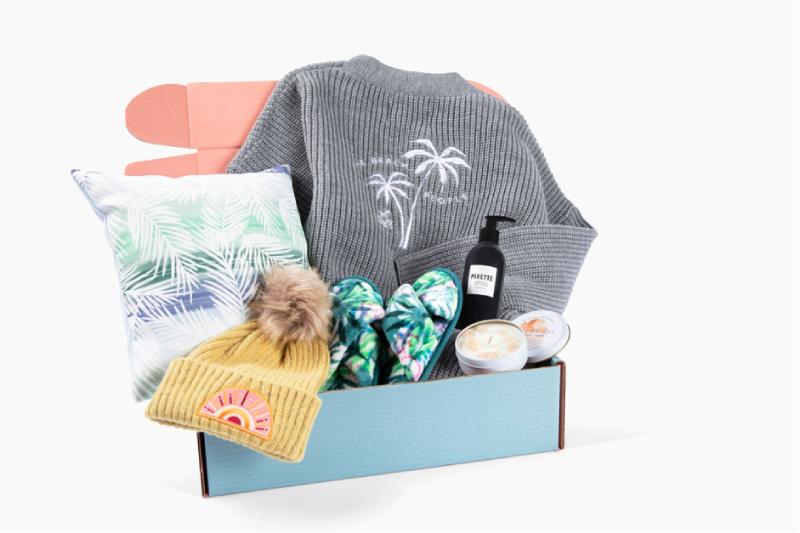 The Twin Palms Cardigan – The Beach People
Retail Price: $119
When staying warm and cosy is essential, look no further than the Twin Palms Cardigan. This cool-weather companion is crafted from a premium blend of plush acrylic fabrics and features a regular fit, an open front neckline, and embroidered palm detailings on the back. It's very soft, it's embroidered, and it's your new go-to for daydreaming about life by the sea and beyond.
The Island Time Slippers – Island Haus Co.
Retail Price: $49
Slip into something warm and beachy from head to toe. The Island Time Slippers, made of super soft flannel fabric, will keep your feet warm and toasty all winter. They're so adorable and comfortable that you'll never want to take them off!
The Pierside Pillow in Palm or Sea Urchin – Sewing Down South
Retail Price: $49
We are SO excited to bring to you one of the most popular items, with a Beachy twist, of course! A custom throw pillow to add a little beachy flair to any home, anywhere. The palm print adds a splash of colour and a West Coast vibe, whereas the sea urchin design is reminiscent of classic East Coast nautical style.
The Sunray Beanie – Virginia Wolf
Retail Price: $25
Staying warm has never looked so good as it does in The Sunray Beanie. This seasonal staple has been updated with a rich gold colour, a vibrant sun patch, and a removable snap-on pom, allowing you to get perfectly cosy and chic for the upcoming Winter months. Of course, with a dash of sunshine!
Hydrating Body lotion – Pirette
Retail Price: $38
This Hydrating Body Lotion is lightweight, fast-absorbing, and antioxidant-rich, helping to moisturize and nourish your skin. With Coconut Oil, Macadamia Oil, Shea Butter, and the PIRETTE signature scent, your skin will be soft and refreshed for the cold winter months.
How to Use - Apply to the skin after a shower, at night, before dressing, or whenever your skin is feeling extra dry and in need of some TLC.
The Coconut Sands Shell Candle – Tiny Bandit
Retail Price: $20
This cosy yet coastal candle is made with hand-poured coconut wax, a cotton wick, and tropical notes that will transport you to a beach with surf. Welcome to your dream paradise, which is lightly sprinkled with crystals and seashells.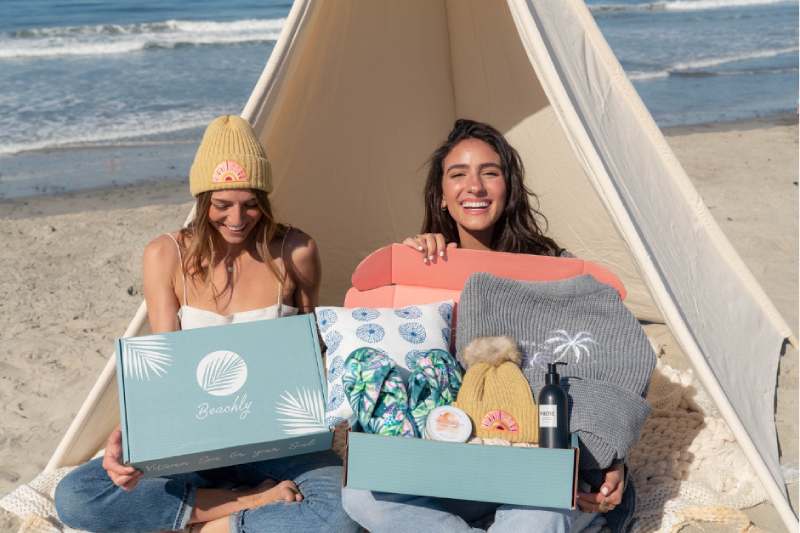 Beachly Shipping Costs
Customers in the United States pay only USD 4.95 for shipping. On their website, you can learn more about shipping rates.
Beachly Gift
Do you want to give someone the best beach-inspired gift ever? Purchase a beachy box for them. This holiday season, send aloha vibes to a friend or loved one who is feeling down.
Each gift box contains over $200 in retail value of beach-inspired clothing and accessories at a discount of 50%. It's as simple as ABC.
• Choose whether to send a Women's Box or a Men's Box.
• Select one, two, or four boxes. These are delivered seasonally and contain a variety of items.
• Select a size and proceed to the checkout.
That's all!
Beachly Shop
Have you fallen in love with a product and want to repurchase it? Simple. Beachly's Shop has a fantastic selection of beach-inspired products.
They sell planner notebooks, scented diffusers, a moisturizer and exfoliator set, and a variety of other accessories and home décor items. Beachly will make your life sunnier and beachier!!
The Final Verdict
When we go to the beach, we all want to look super voguish and sassy. However, finding the perfect items that complement your style and, more importantly, finding good stuff at a price that doesn't break the bank is a difficult task.
Beachly saves you time by delivering seasonal products to your door quarterly. Just one word. PERFECT. Period.
Now, head over to their website and sign up right away!